THINGS YOU SHOULD KNOW
LEVEL OF DIFFICULTY
– EASY –
Hours: Sunrise to Sunset
Trail Length: Under 1 Mile Round Trip
Elevation: Flat
Located on Private Property
Large Parking Area

Leave No Trace
No Facilities
No Restroom Available
No Glass or Alcoholic Beverages
No Camping
---
THINGS YOU MIGHT NEED
---
ABOUT THE AREA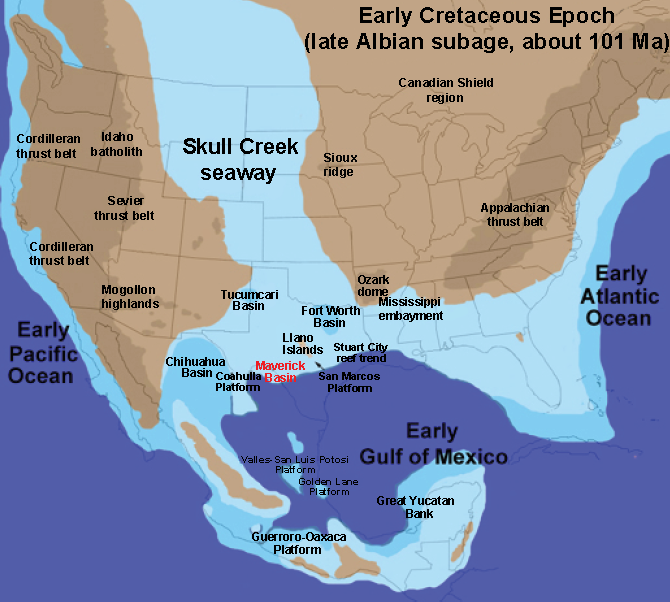 The Chalk Pyramids, also known as Monument Rocks, are located in the "Badland" region of Western Kansas near the Smoky Hill River. Millions of years ago, this area of Western Kansas and Eastern Colorado were covered by a large inland sea. Known as the Skull Creek Seaway, it spanned from the Gulf of Mexico to the Arctic Ocean, and separated North America into separate bodies of land.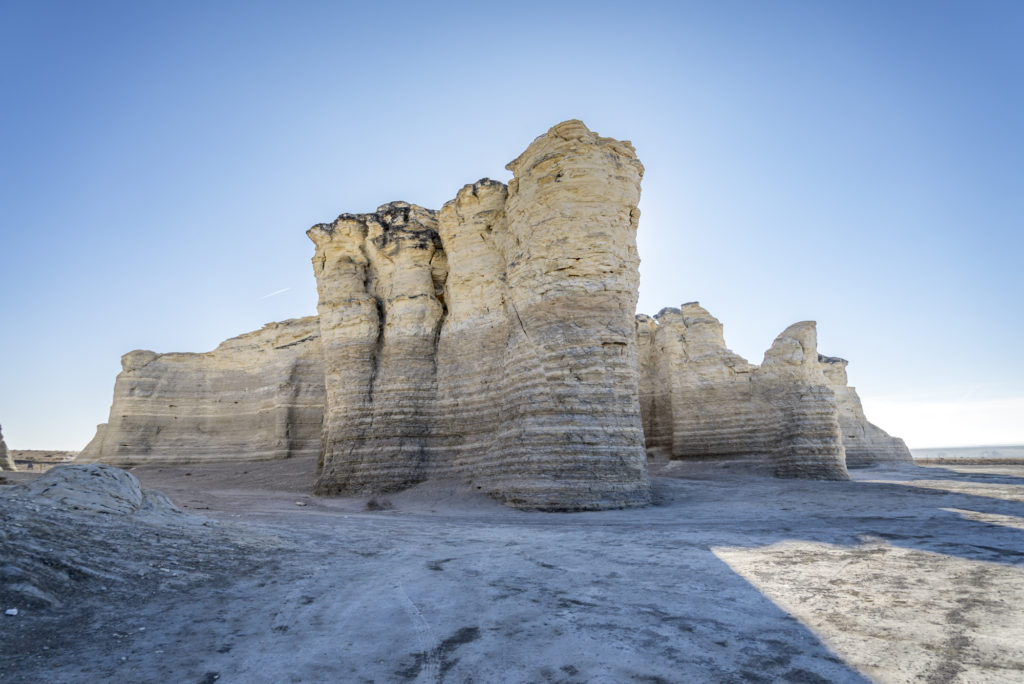 As the sea dried up, the remains of the animals who occupied it were pressed into chalk. The Smoky Hill River has carved out the surrounding landscape over thousands of years, leaving the layers of fossils and deposits visible in the Niobara Chalk. These rock formations have been officially recognized by Congress as a National Natural Landmark, and were also named as one of the "Eight Wonders of Kansas" in 2007.
---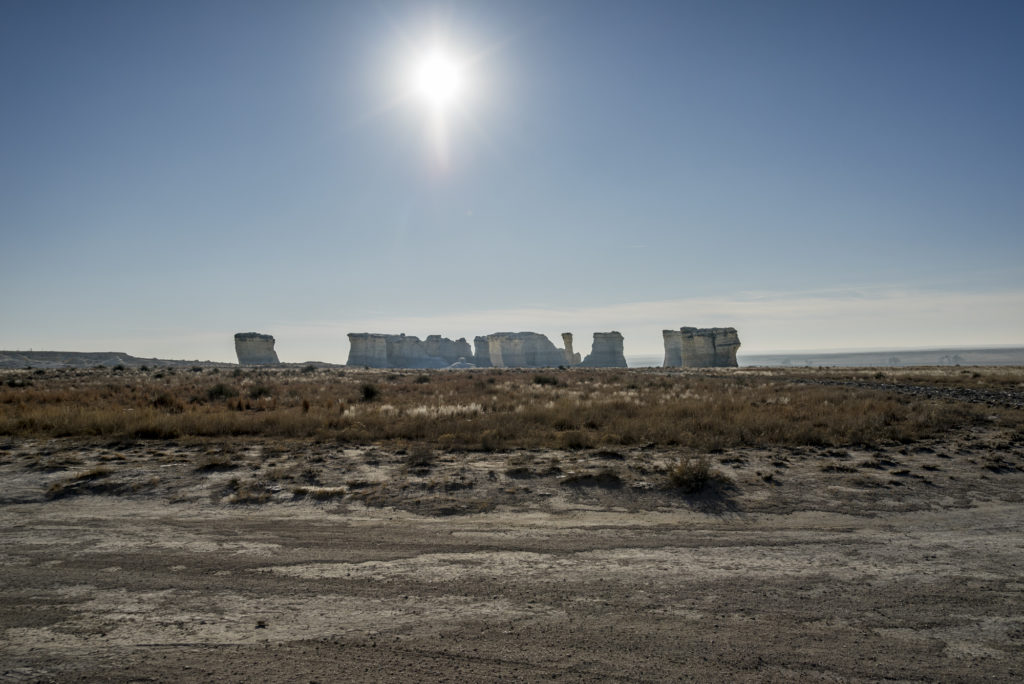 HOW TO GET THERE
The Chalk Pyramids can be found in Western Kansas along US Route 83. A 7.5 mile detour from the highway is required by way of dirt and gravel roads through open ranch land. US Route 83 runs North-South and access is reached from two primary towns. To the north 28 miles is Oakley, Kansas, which is located along Interstate 70, and to the south from Scott City, Kansas, which is also 28 miles away.
---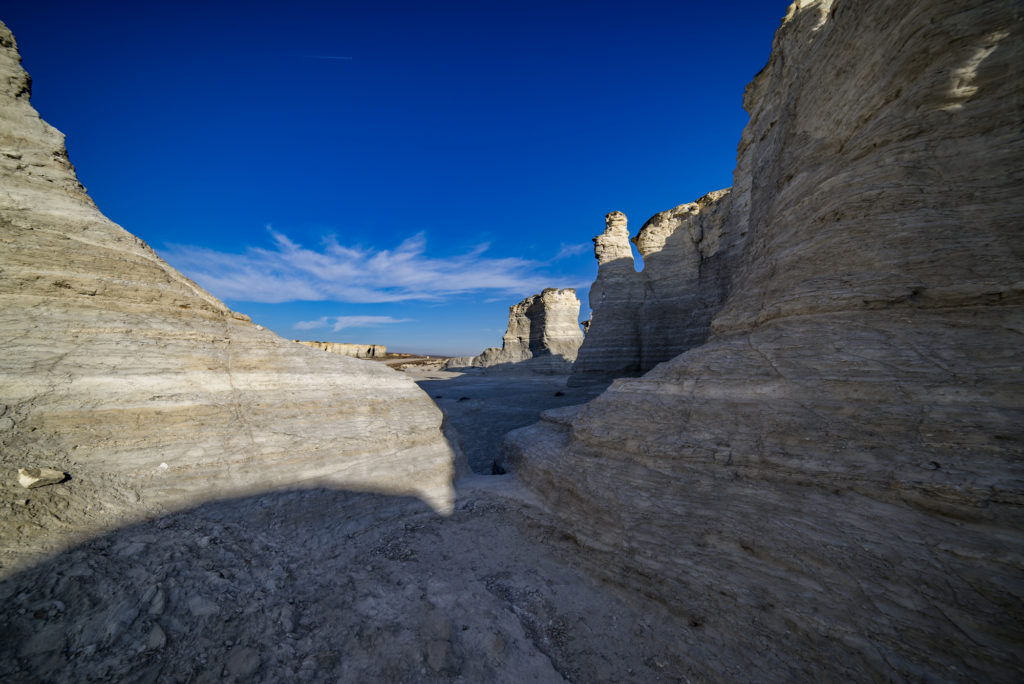 EXPLORING THE CHALK PYRAMIDS
When you arrive at Monument Rocks, you will find interpretive signage and plenty of open space for parking. There are no defined trails in the area, so feel free to explore. By our calculations above, it is roughly a mile if you walk around both sets of rock formations in the area. Exploring the 70 foot walls of the rock formations you will find shells and fossils, evidence of past life of the inland sea.
---
Respect Private Property
The area in which the Chalk Pyramids are located in on Private Property. Be respectful while on the land, and while exploring the surrounding area, as access to this wonderful location is a courtesy. There are no facilities, so practice Leave No Trace principles, and pack out all you pack in.
---
GALLERY
---
PHOTOGRAPHY GEAR USED